Facials - Spa Facial Treatments
Welcome to our Facial page. Before you browse our complete menu below, this short introduction will explain the basic set up of our menu. Keep in mind that we offer Facials using products from Phytomer and Swissline. Please read this brief description to decide which line of skin care and facials will be best for you.
PHYTOMER has mastered master marine biotechnology to produce completely new and natural ingredients using high-tech and environmentally friendly methods.
SWISSLINE has formulated a complete range of anti-aging products that contain exclusive ingredients like Cellactel 2. Exclusive anti-aging ingredients are used to revitalize the skin, for a visibly firmer and younger look.
FACIAL PEELS are those who are looking for immediate results. Our highly popular Miracle Facial Peels are designed to instantly remove the top layer of dead skin cells from your face. The result is an newly active, resurfacing of your skin. You will notice an instant reduction in the appearance of fine lines & wrinkles.
FACIAL ESSENTIAL ADD ONS are additional treatments that are targeted to specific areas. These add ons will not only extend the time of your treatment, they will also add luxury and target results. Have a look below!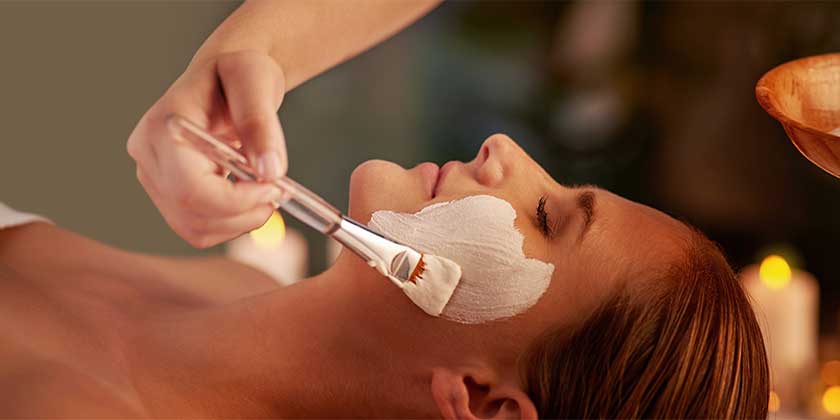 Facial Essential Add Ons
Now you can get even more from your facials at Aru. Our Essential Add Ons are a perfect compliment and can be added to any facial you find listed on this page. Choose one or choose multiple add ons to customize your perfect facial. Go on and add some luxury and results focused performance!
Popular
Add On - Disappear Eye Contour Treatment
$25
A treatment that energizes and decongests the skin around your eye, diminishing the appearance of fine lines. This targeted treatment will give you instant and noticable results!
Add On - Reflexothermal Back Massage
$25
A relaxing back massage paired with a self-heating and remineralizing mud that is left on your skin throughout your treatment. Cleanse, detoxify and restore proper moisture balance to your skin.
Add On - Refloxthermal Foot Treatment
$25
Relaxing foot massage paired with a remineralizing and self-heating mud throughout your treatment. Cleanse, detoxify and restore proper moisture balance to your skin.
Add On - Power Exfoliation
$25
Upgrade to our "power" exfoliant. Using AHA's in addition to mechanical exfoliation this is for the client that is feeling dry, tight and has a dull appearance to the skin.
Miracle Facial Peels - AHA
The effects of time and sun exposure, causes your natural exfoliation process to slow down. This changes the rate at which old cells leave your skin. The result is your skin feeling rough and eventually leads to unwanted fine lines and wrinkles.
In addition, collagen elastin begins to diminish, leading to thinner, less elastic and sagging skin. Our Miracle Peels use a high concentration of AHA to reverse these effects by resurfacing and tightening the skin. The results are dramatic! Most of all you will notice a reduction of fine lines, wrinkles and also dry patches. AHA peels are also great to treat sun damage and acne scars.
Popular
One Visit - Miracle Facial Peel
$75
This is a miracle AHA treatment and the results will blow you away! A facial peel treatment designed to resurface the skin, and promote the new skin cell growth. 15 mins
Series of 6 - Miracle Facial Peels
$375
For best results clients should receive a series of 6 AHA Miracle Facial Peels at the rate of approximately 1 peel every 2 weeks for 12 weeks. With consistent application over a 12 week period you notice incredible results. You will be truly amazed! You get 6 peels for the cost of 5.
Phytomer® Facials
All Phytomer® products are marine based products that have a wide range of benefits. The sea contains the greatest source of available natural ingredients. It represents a diverse wealth of opportunity for the health of our skin. PHYTOMER has developed a high-tech approach to the formulation and use of cosmetics. Their research makes them capable of drawing on this source to extract its esthetical benefits, without affecting the environment. See for yourself just how luxurious and effective these products are. Experience PHYTOMER facials and home care products today!
Popular
Aru Signature Facial
$130
A unique ultra-moisturizing treatment to visibly plump and hydrate the skin. Ideal for your first treatment or to finish up a series of Facial Peels. 1 hour
Side-by-side Aru Signature Couples Facials
$260
Enjoy our Aru Signature Facial on heated, side-by-side beds with your partner or friend. 1 hour
Fountain of Youth
$139
An Anti-Aging facial to resurface the skin, fill wrinkles and infuse proper moisture into your skin. As a result you will notice firmed, toned skin with lines and wrinkles visibly reduced. 1 hour
Velvet Touch
$134
A halo of softness for skin that is sensitive or subject to redness. This cocoon treatment softenes your skin and heightens its protection system. 1 hour
Rebalance
$119
Shine and blemishes are noticably reduced as your skin is cleansed and detoxified to regain its luminosity. Perfect for those with oil control problems. 1 hour
Acne Facial - (acne prone or oily skin)
$89
This facial is designed for those with moderate to severe acne. Correct your skin's imbalances and regain its purity for a clearer, less oily and blemish free complexion. Our Acne facial reduces excess sebum production, while diminishing pimples and black heads to help even out skin texture. Hence you will experience a noticeable reduction in inflammation and redness. Find your skin's balance today! 50 mins
Anti-Aging Facials - Swissline®
Swissline® is a luxury, anti-aging Swiss skincare brand offering age preventative and restorative products. Bridging the gap between science-led skincare and cosmetic skincare. Our cellular-based anti-aging formulations offer you rapid and noticeable results.
Cell Shock Lifting & Renewal
$189
An anti-aging treatment for skin that lacks resilience. This intensive treatment uses a highly concentrated cellular complex that is proven to lift and firm. Cell Shock revitalizes aging skin and improves the cell's oxygen intake and skin regeneration. You will notice an immediate "Face-Lift" result. 1 hour
Popular
Collagen Facial
$159
This treatment is designed for deep hydration and plumping of your skin. A "Virtual Mask" aids in the delivery of medical-grade ingredients. Your skin will experience increased cellular renewal and collagen production. As a result your skin will look measurably lifted and the appearance of fine lines dramatically reduced. 1 hour
Lightening & Radiance
$159
Ideal for all skin types who want to treat "sun-spots", scarring and other imperfections. This intensive lightening treatment evens dull and hyper-pigmented skin, giving it a radiant glow. 1 hour