It feels like summer – I hope you have been able to get out and enjoy this beautiful weather we are having.
It's finally time to shake off your boots and dust off all of your open-toed shoes.. but the first thing you need to do is make sure you don't forget a nice pedicure before you show off those toes. We've got some help for you below.
Reminder – Sunday May 8th is Mothers Day and it's only a few weeks away. If you want to get into the Spa with Mom this year, be sure to book early, that week fills up fast. Call us today to secure a spot.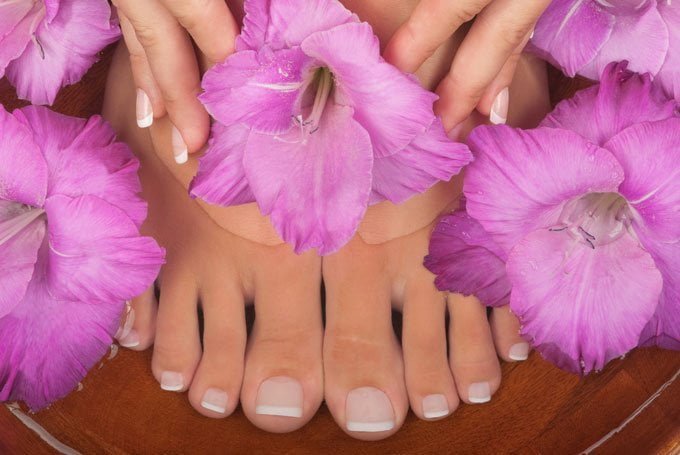 The change of seasons from winter to spring, not only brings changes in our skin but also in our foot wear… open toed shoes! 😉 Show off those toes, protect your feet and nurture your skin at Aru.
Enjoy our relaxing Signature Facial using the latest in botanical antioxidant skincare science followed by our Signature Pedicure, a true spa Pedicure beginning with an aromatic foot soak, followed by nail care, foot exfoliation, lower leg & arm massage, and polish application. 
Only $179 (save $21) until Apr. 30, 2016.
Plus add a Paraffin foot Therapy for only $10
CONTACT US NOW >>
The Aru Japanese Experience For Couples. 
Bring out the romance in our exclusive Couple's Room where you and your partner will cozy up on side-by-side heated massage tables for soothing Full-Body Exfoliations. Then follow path of rose petals to our private and very romantic Japanese Bath, filled with essential oils and aromatic red rose petals.
Complete your package return to the heated massage tables for side-by-side  60 minute Relaxation Massages. Retire to our Eastern inspired Relaxation Lounge and relax with a cup of green tea.
Japanese Experience for Couples • 2 Hours – $375
CONTACT US NOW >>
Book any hair service in April and get a Kerastase Ritual Treatment for only $19. 
Our Rituals Treatments are specifically customized based on the needs of your own hair and scalp. Experience the best in-salon treatment available, perscribed and customized for you, by an Aru stylist.
Learn more about Kerastase Rituals. Only $19.
Please be sure to book your Ritual with your hair service.
* Must mention this promotion when booking your appointment. 
CONTACT US NOW >>