Summer holidays are quickly coming to an end and the sprint to get ready for school and the Fall season begins. As beautiful as this summer has been it always seems to go by way too fast.
At Aru we are ready to do our part in helping you get ready for the new season. We have completed new seminars & training and are fully ready with this season's latest styles. Remember you can visit us anytime for a no charge consultation.
Appointments for this back to school season are filling fast so be sure to schedule yours right away.
**NEW** Permanent Makeup – Feather Touch Eyebrows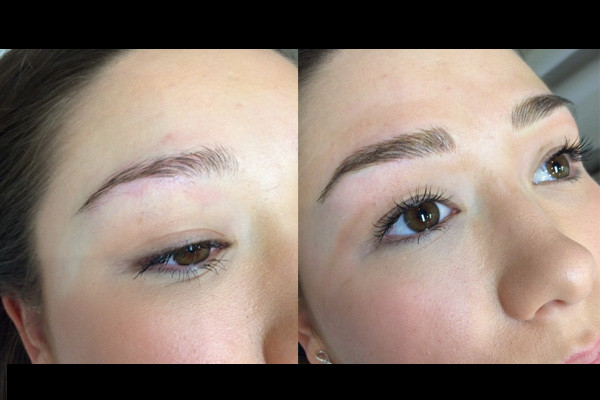 Our Feather Touch Eyebrow service is a micro-pigmenting technique that turns sparse uneven eyebrows into gorgeous fully symmetrical and completely natural looking eyebrows. You can get full eyebrows with perfect arches that will elegantly frame your eyes.
This technique is not like the block tattooing of the past. Feather Touch mimics the natural look of individual brow hairs and can be customized to your preferred look.
*Special – If you book this service before the end of August, you will get our summer special rate of only $350. This service is regular $499.
This special has limited spaces available and once spaces are full it will return to regular price. No rain cheques.
CONTACT US NOW >>
Mom & Me – Back to School Hair Special
Our popular Back To School Hair Special is back this year! Book in with Mom and we will do a full Cut & Style for your Back to school child at 50% off the regular price!
Mom and Me – Mom, book any Cut and Style or Colour Service and receive 50% OFF a CUT & STYLE for ONE of your children. Child must be 17 years or younger. Both appointments must be the same day. This offer is valid until September 8, 2016.
CONTACT US NOW >>
AHA Peels – Buy 5 Get 1 Free!
The effects of time and sun exposure eventually leads to unwanted fine lines, wrinkles and dry patches. Collagen elastin also begins to diminish, leading to thinner, less elastic and sagging skin. 

AHA Peels are are designed reverse these effects by resurfacing and tightening the skin, resulting in the reduction of superficial wrinkles and dry patches. AHA peels are also great to treat sun damage and acne scars. Now when you buy 5 AHA Peels you get the 6th one complimentary.
CONTACT US NOW >>
Hair Botox Is The Hottest New Craze!
Hair Botox is the latest generation of miracle treatment, natural and organic non keratin smoothing system that has the added ability to restructure badly damaged hair; helps stop hair loss and controls oily and dry scalp.
The hair Botox treatment is gentle, super fast and 100% free of formaldehyde and/or formaldehyde derivatives. Hair Botox is safe to use on the most delicate bleached hair to the most resistant virgin hair.
The results are simply amazing. Try it today and see for yourself.
CONTACT US NOW >>
Signature Facial and Mineral Makeup Package!
Get yourself ready for the end of summer with our popular Signature Facial and finish with some great makeup techniques and product to bring you up to date!
Signature Facial, Make-Up Lesson and $35 towards Jane Iredale Makeup for only $169 until August 31, 2016. (save $70)
This package includes a $35 credit towards the purchase of Jane Iredale Makeup products. Your credit must be used on the same day as your services.

CONTACT US NOW >>
Aru Spa and Salon Gift Certificates Always Available!
Aru Gift Cards Make a Great Gift!
Give a great gift for any occasion… a little time to relax and unwind with an Aru Spa and Salon Gift Card!
Aru Gift Cards can be purchased in-Store or our E-Cards can be purchased online and instantly emailed or printed, right from the comfort of your home!
CONTACT US NOW >>